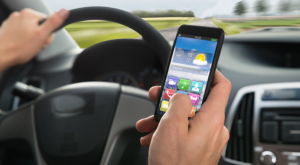 Are you worried about your quality of life following an accident that involved texting and driving? Distracted driving is going up as the number of accidents involving phones or just distracted drivers continue to skyrocket. As the number of casualties, injuries, and accidents increases, so does the amount of people seeking the aid of experienced car accident attorneys.
Getting into an accident as a result of texting or even the more general umbrella of 'distracted driving' is becoming more common than ever. While awareness about this cause of accidents– many of them fatal– is growing, it's clearly not enough to reduce the number of accidents that are occurring on the road. While many states have laws against cell phone use, many also have no penalties for the infraction. Laws can vary according to which state you're driving in, so it's good to know the laws of your state but also use caution when it comes to even hands-free talking while driving even if it is legal in your state of residence.
Today we're discussing consulting an attorney about driving accidents caused by distracted driving. Whether it's texting, intoxication, and more, it's important to consult an experienced legal attorney if you have any questions about your case or a potential case. Read on and find out more about distracted driving, facts about it, and what you can do when you have been directly affected by it.
With millions of smartphones in use every single day, you can guess that the little screen is causing big problems when it comes to the road. You are far more likely to get hit by a middle-aged mom in a minivan who is texting and driving than you are an older person having a medical event while driving. Because the technology is pervasive and always accessible, it can lead to big problems when drivers indulge themselves in a little screen time– problems that you now have to pay for.
Nearly a fifth of all car accidents that happen in the U.S. is due to cell phone use alone. Does that surprise you? Perhaps you are one of the lucky few to avoid having such an experience. Many others are faced with the aftermath of what to do after being in a car accident. Whether caused by you or the other driver, you've got to consult a lawyer as quickly as you can to figure out what to do next. They alone are going to be able to give you solid legal advice on the matter.
The stats on fatal crashes involving cell phones are certainly sobering. The N.S.C. estimates that of fatal crashes in 2011, over half were caused by people using cell phones. Texting or talking or even using the cell phone while driving could take a life, or change someone else's forever. Think twice about picking up your phone while operating a motor vehicle, and if someone fails to do the same for you, consult The Law Offices of Payas, Payas, and Payas, and seek the compensation you deserve.