December is always a top month for auto accidents to occur. While crashes happen every day, the holiday season always seems to see an increase in not only accidents but DUI accidents as well. When it comes to the holiday season, your mind may be on spirits as opposed to crashes caused by them. However, there is no question that December is at the top of the list for months with car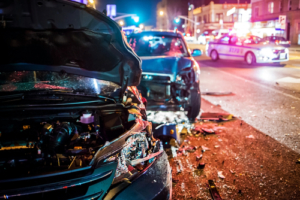 crashes– particularly those caused by intoxicated drivers.
While this is true in all states, Florida has seen a significant increase in car accidents over the holiday season in recent years. During the years of 2015 and 2016, the state of Florida saw an estimated 34,000 car crashes during the month of December (68,000 if you put them together). That's a significant increase from 2013, where around 28,000 December crashes happened. If you consider the fact that this is only the number of accidents recorded with one or more people inside, you can see that the amount of individuals injured or killed by these crashes goes up exponentially.
So why has December become the riskiest month to get into an accident?
More road traffic.
Between travel, people getting out to do shopping, and socializing and visiting family and friends, there are bound to be more people on the road. More people means more vehicles, less patience, and more happening– thus, more cause for accidents to occur.
Poor weather.
Between snow, wintry mix, freezing rain, sleet, and regular rain, December can bring some unique weather that works against driving safety instead of in its favor.
Increased alcohol consumption.
People are more likely to get merry with actual spirits during holidays. Between parties, time of the year, socializing, or even depression, the odds of a drunk driver on the road are higher than usual. The NHTA estimates that an average of 35 people die from an intoxicated driver daily. During the holiday season, that number rises to roughly 45.
So, Why Do People Drink and Drive More During December? The answer is pretty simple: people are socializing and gathering to celebrate more during December. It's the holiday season, there are various parties and activities, and a lot of them may involve or provide alcohol. Many adults admit that they will drink more during the holidays than other times of year. Drunk drivers may drink more during the holiday season than when they drive drunk other times (a.k.a., increased consumption and increased intoxication).
During holidays, half of adults state that there is alcohol there when they gather with family members. Keep in mind that while the holidays are a time to gather and celebrate, they are also a time where your risk rises while on the road. Intoxicated drivers cause 40% of auto crashes during Christmas as well as New Year's Eve, while more than 30% of all fatalities from drunk driving occur over the weekend. Accidents statistically occur most often between midnight and three in the morning.
This holiday season, keep an eye out while on the road. If you or someone you know is hurt in an accident, consult a Florida attorney that specializes in auto accidents. Contact us today to get the compensation you need.