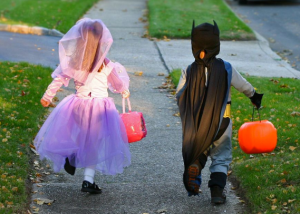 When it comes to Halloween, it's a fun time to dress up or just go out and have a little fun! Of course, it's always a great option to curl up with a good scary movie. However, if you have little ones that are old enough to go out, you may be hitting the streets with your kids instead of getting freaked out by Freddy Krueger.
With that being said, here are some tips we've assembled to help you be more aware this Halloween. Protect your kids and keep an eye out– Halloween is one of the most dangerous days of the year.
Halloween is fun, but it's also one of the most dangerous days of the year for pedestrians. The NHTSA (National Highway Traffic Safety Administration) reports that accidents involving drunk drivers and pedestrians rise on Halloween. For kids, the risk of being hit and killed by a car doubles on Halloween (Safe Routes Worldwide).

Tips:
Stay visible.
Put reflective clothing on your child/children and yourself, such as a vest or armband. Be sure to carry a flashlight per person to make you more visible to others.
Check their costume.
Make sure that they don't trip on their costume and can see just as well as they normally do through their masks or costume.
Chaperone your child.
If you're supervising, you'll know they're safe. Pay attention as they go up to each house or walk up with them. If they are old enough that they want to go with their friends, walk behind but keep an eye on them as they go door to door.
Keep your kid off the street.
Remind them to stay off the street and stick to the sidewalks. It's not a guarantee of safety, but it's a good start.
Remind them to stay vigilant.
By keeping an eye out for danger or erratic drivers, your child may be able to thwart a dangerous situation before it's a disaster.
Plan your holiday out.
Know who is going to be where, when, and even schedule your Halloween trick or treating earlier in the day and night so that you're less likely to be experiencing drunk drivers or odd adults.
Watch out for cyclists.
Whether motorcyclists or bicyclists, keep an eye out for other people. Stick to the sidewalks as a pedestrian and let bikes have the road.
Know your Halloween pathway well.
If you know your town well, stay in the areas you are familiar with. Review the way you're going in your head to make sure that it's well lit and free of lots of traffic or dangerous crossways. Walk it the day before to test it out if you're not certain.
For drivers, remember to avoid driving intoxicated and keep an extremely close eye out for pedestrians and children. You never know what kids might run suddenly out into the road. Even when completely sober, hitting a pedestrian or child is entirely possible with so many people trick-or-treating. This holiday, be safe, and call a cab, stay the night, or call a friend if you need a ride home.
Call a personal injury lawyer if you've been involved in an accident involving negligent drivers or pedestrians. Consult The Law Offices of Payas, Payas & Payas to find out more.