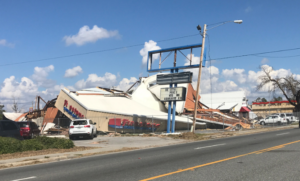 Panama City, FL – Hurricane Michael, a vicious category five storm with sustained winds of 155 miles per hour, made landfall in Florida's Panhandle on October 10 and ripped apart and wiped out entire coastal communities. The devastation was complete, Mexico City, a town on the beach, was obliterated – nothing left standing and nearby Panama City with a population of 40,000, including many Hispanics, saw homes and businesses with roofs ripped off and walls gone. Forty peoples died. Only the hospital in Panama City was up and running with generators and a temporary patched up exterior. Residents walked about the streets in shock, numb, carrying children not knowing where to go or when help would arrive. Only police cruisers and the National Guard patrolled the streets and enforced curfews from sun down to sun up.  FEMA, the Federal Emergency Management Agency, was nowhere to be seen. No electricity, water, food, ice, no shelter or basic life sustaining necessities. Hispanics were especially hard hit and were desperately calling out for help to everyone, anyone.  The lawyers of Jurimex, an Orlando and Miami based group who was formed 8 years ago to help Mexicans and other Hispanics throughout Florida to avoid the prevalent fraud in legal representation, decided to organize a major relief effort in Panhandle.
The lawyers immediately put together a relief fund of $40,000.  Jurimex lawyers Brent Probinsky and Armando Payas contributed $15,000 and received donations from other law firms in Florida and even as far as St. Louis where the Simons Law Firm donated $5,000.  The founding family of Calamos Wealth Management, through Vice President & Sr. Wealth Advisor, Scott Poulin, donated $2,500 directly to a church in  Panhandle.  Lawyers Bill Robertson, Phil Parrish, Scott Rosen, Mark Ingraham, Tim Henkel, and business leaders Paula Rubenstein, Marc Eichberg, Lil Denham, and Graham Cox, made generous donations.  Isaret Jeffers, a Mexican community leader in Kissimmee and her husband Kent, who operate Collectivo Arbol, went into immediate action. They reached out to Changing Rooms, an Orlando based Puerto Rican community group, who donated hundreds of bags filled with emergency items to distribute to Panhandle families, including food, clothing, toiletries and even toys for children.  Attorney Probinsky and his wife Susan, with the help of the Jeffers couple and their  friends, Carlos and Vanessa Alvarez, rented three huge trucks in Orlando and spent two days at Home Depot and Walmart filling them with generators, chain saws, coolers, tents, sleeping bags, tarps, thousands of pounds of fresh food, fruit, meat, cheeses, canned food, baby food,  ice, flashlights and medicines and headed for Panhandle, a 400 mile trek.
All night they drove the caravan of 3 huge trucks, cars, vans and a pickup truck and on Sunday, October 14th, set up a distribution center at Casa De Dios in a partially destroyed shopping center in Panama City. A generator from Home Depot got the lights on and church volunteers helped distribute supplies to more than 500 Hispanic families, many from Mexico and Central America. They also gave out coolers, ice and portable stoves.  Church volunteers, including Jose and Yani Torres and Pastor Noemi, showed up with pickup trucks and vans that took vital supplies to devastated neighborhoods.  Several generators were donated to churches and families who had members with medical emergencies and chain saws went to volunteer cleanup crews.  The distribution of 25,000 pounds of supplies, ice, water and food continued for three days.  Rebuilding is the next step for the Panhandle's Hispanic families, many of whom are undocumented and may not receive assistance from FEMA.  Probinsky, lawyers of Jurimex, Isaret Jeffers and other leaders are organizing the next phase – donations to buy materials for rebuilding devastated communities.
Original article from: http://www.elosceolastar.com